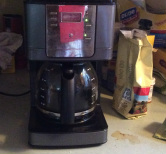 ODE TO A COFFEE POT

I bless you, dear one, for the timer that awakens you before the sunrise.

In the quiet of the daybreak you gurgle and sputter.

Dark essence of life, you drip slowly forming a pool of caffeinated hope.

Warmed by unseen elements you remain still and watchful

Until I, stumbling and bleary-eyed, arrive to receive your gifts.