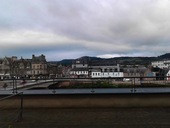 All the sites we could squeeze into four days in London. Fringe Festival in Edinburgh. Side trip to Glasgow. Train ride up to Inverness. Another brave attempt to figure out the Euro-Washing machine after the first try destroyed my favorite Lands End pants.

I have details for you- I'm keeping a travel journal that I'll edit and share when I return home. Today's post is about the passing of time and friendship.

The Backstory: 1997 - Rob and I traveled to Las Vegas for a vacation. We were in our 20's and were looking forward to the lights and sounds and $1.99 all you can eat buffets. While waiting for the shuttle to take us from the airport to the hotel we encountered a clearly jet-lagged couple from Scotland who asked us it they were in the right queue.

Let this be a lesson to you, kids; never talk to strangers.

In my "magical thinking mind" I like to imagine that God somehow arranged this bus trip to the Monte Carlo Hotel. We chatted the entire way and really enjoyed each other. Upon arrival at the hotel we exchanged room numbers and promised to see each other again during the week. (This was back before cell phones…the horror!) Rob and I searched out a buffet and talked about what nice people they were and how we would probably never see them again as we had both neglected to write down either their room number or their last name.

The next day dawned hot in Las Vegas (go figure.) Rob and I explored the Strip and returned in the afternoon to enjoy the hotel pool. While the pool complex was huge – it seemed as if everyone else was already there. We couldn't find two pool chairs until we heard a lovely Scots accent calling our names. It turned out that our new friends happened to have two chairs next to them that coincidentally- were vacated only seconds before we arrived. We spent the rest of the trip meeting up every day. Before we parted – us back to Boston and them to continue their trip along the California cost- they invited us to visit them in Inverness. Again, Don't Talk to Strangers! We arrived in Scotland several months later in time to celebrate New Years Eve or Hogmanay as it is known in Scotland.

This was the first of many trips back and forth across the Atlantic. We've celebrated with each other family weddings, comforted each other in times of grief, rejoiced over babies born and kept track of each other's major life events via sporadic phone calls and emails. We met in Florida for Parker's first trip to Disney World and they took us to Sterling so that Parker could explore his first real castle.

Then ten years ago – both couples hit that middle-age focus shift. Careers change, health changes, family situations change… you know, life happened. We would go seven or eight months without communicating. This turned into ten years of not visiting one another.

Until now.

On Saturday, Rob, Parker and I took a side-trip to Glasgow to attend a family birthday party. How is it possible it was like the years never passed? It felt like we were cousins just stopping by after a weekend away. It wasn't just us either- they commented on it as well. How is it that some friendships need almost daily tending while others remain strong no matter what?

I don't have an answer to this yet. I plan on pondering it more but today we are back in Inverness- the place where our friends lived when we first met them. We've not been here in about eighteen years – so I'm going exploring. And by the way – our friends, who now live in Glasgow, might be coming up to visit us tonight. If not- we are spending more time with them later in the trip. And I hope they might be already planning on coming over for Thanksgiving.

Thanks for coming with me on the journey.