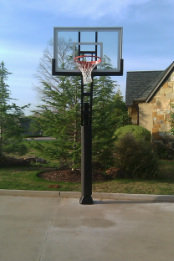 This was not at all how I imagined I'd begin my three-month sabbatical. The morning started the same as usual - a slightly manic rush as my husband scrambles to catch the commuter rail and my son heads off to school. I will admit to feeling a bit adrift with no work commitments to prepare. I actually checked my calendar three times before 8am because I keep having that "I've forgotten something feeling." Nope- still all clear except a lunch date with a friend and an email to my scriptwriting consultant.

When I get into the car to bring my son to school the reality of the situation hit me. I was NOT going to the church after I dropped him off. While I was inwardly doing the Snoopy Dance of Joy, I decided to turn the car around so that he could avoid the big puddle outside the passenger side door.

BAM!

Yes, in my exuberance I slammed the Prius into the metal post of the basketball hoop. A shower of plastic light casing bits joined the rain falling on the grass.

Two things:

1. I have absolutely no excuse. I was thinking about sabbatical and not paying attention.

2. Why the hell is there a basketball hoop on the edge of my driveway. We don't play basketball.

I hopped out of the car to investigate the damage and to loudly combine swear words in unique combinations. This is when my son ventured out of the house. He is sixteen – so I doubt I taught him any new language - but it was beneficial because then I had to decide if I was more embarrassed to be caught swearing or because I crashed my car into an inanimate object. Being a brilliant young man he just got into the car without comment. I managed to get him to school on time and in one piece.

Now I am sitting at a little independent coffee shop writing my first sabbatical blog post about how my sabbatical isn't going at all the way I imagined it would go.

And then realizing – that is exactly the point of this sabbatical.

Let the adventure continue.