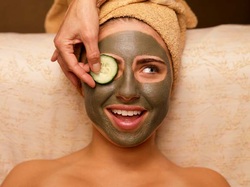 Sabbatical Day Three -
Yesterday was spent organizing and last night was spent eating tapas, drinking sangria and rocking out at a Barry Manilow concert. (ok- rocking out might be a bit extreme for Barry- but it was a great show.)

In my planning - today- Day 3- was going to be a nice relaxing spa day.

The Life Happens -

Parker has a half day due to finals (reschedule spa start time)

Rob needs to take care of his dad in Billerica (So I have to attend the mandatory parent class of Drivers Education - cut time at spa short.)

Nessie the Bad Dog vomits on the floor. (just ice.)

Still- it is sabbatical so I will slow down after the carpet cleaner dries and ponder the important stuff of life this morning - like what color I should have my nails painted.