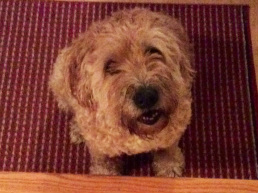 Nessie the Bad Dog is my nine-year-old Soft Coated Wheaton Terrier. She has always been a little "off." She will sidle up to a houseguest to snuggle only to growl as he pets her. Then she'll growl when he stops. The veterinarian we took her to as a puppy used the exact phrase, "she has a screw loose" to describe the dog.

Another one of Nessie the Bad Dog's endearing traits is that she's always hungry. She would counter surf a tsunami if it meant she'd end up with a tasty morsel at the end. Her insatiable quest for food has landed her in all sorts of predicaments. She's been trapped on the dining room table, had her head caught in a too small cardboard box, made it snow brownie mix all over the kitchen and once even ate all of my son's foil wrapped Easter candy when she was alone between the sunrise and the 10 o'clock services. That made for further entrainment as all of her bowl movements for the next week came out like cast-off disco balls from a Lady GaGa tour. This cranky, hungry, often stinky, ball of fluff ad teeth is yet another of my crosses to bear.

I wonder about this odd creature that shares my home. Could she ever be content? It seems no matter what she has scarfed down from the counter or stolen off the table or nicked out of the garbage, she is always looking for more and more. I don't think there would ever be an "enough" for Nessie.

Growls if you pet her- Growls if you stop.

This morning I managed to spill a vast amount of hot coffee all over my winter coat. The travel lid was not secured properly and so while I was trying to sip it like a lady- it was flowing like Niagara Falls onto my suede jacket. There was so much coffee spilt that it seeped through to my work clothes and stained the sweater I was wearing. I growled.

I was mad at the cup. I was mad at the coffee and mostly mad at myself. I didn't need that cup of coffee. I'm really not even sure why I felt to need to make it for myself and bring it into the car with me. I was content. I was caffeinated. And then I wanted MORE and so was baptized in French roast.

I don't know why I didn't listen to myself. If I had listened to that inner voice, I would have known that "enough" point with the coffee had been passed. If I listened to "Enough!" I'd have not gained those last ten pounds. I'd have stopped talking before I said that stupid thing I couldn't take back. I'd have not purchased that "one more- had to have" thing.

Contentment eludes me even when I know I'm content. Like Nessie the Bad Dog I assume that there is just something MORE that I need. MORE; even when I don't need it.

Perhaps I'll stop seeking contentment when I am more content. All of this is to say that as a painfully flawed human I know I've got a lot in common with Nessie the Bad Dog. We are just going to sit here and growl for a while.