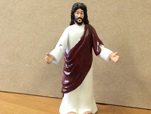 Out of respect for Islam and the millions of followers of that faith, I choose not to include any sort of representation of Mohammed on my website. That' s me.
My website. My choice.
I know that using an image of Mohammed is considered offensive and I choose not to do it. Not out of fear of reprisal but out of a Christian imperative to "Do unto others as you would have them do unto you."

Do I support free speech and the right of the Charlie Hebdo editors to have an image of the Prophet on their front cover? Yes. And I also support the right of the Muslim community to be offended by it. (Not to act violently on that offence- mind you – but rather to be upset and engage in non-violent acts to educate.)

Now- about Jesus.

Where to begin… There are so many images of Jesus that it boggles the mind: icons, stained glass windows, paintings, movies, statues and even toys. I personally own a toy Jesus with "Gliding Action." (See photo) He hangs out on my office bookshelf with "Action Figure Moses "and a few other tchotchkes. A few years back, I was given a toaster that imprinted an image of Jesus right onto the bread as it cooked. A simple search of "Jesus Toys " returns a lengthy list.

What then are we to make of these things?

PLAY TIME!!

My faith allows me to see these items simply as toys. They are not "Jesus" anymore that a picture of me at my high school graduation is "Jen." If a floating bathtub Jesus makes you giggle– then ok. Jesus is not the tub toy, the action figure or the dress-up paper doll. These are silly human made things.

For me, Jesus is bigger that any of those things because the real Jesus invites us into relationship. I might enjoy my action figures but I don't have a relationship with them. Jesus calls people into community, calls us to love (even (especially?) those we don't like) and calls us to live a life of service. The Christ who is the same yesterday, today and forever (Hebrews 13:8) is bigger than my action figure and any argument about the action figure. Thanks be to God.

Now, about that tub toy… my birthday is in May….

Give me Jesus.