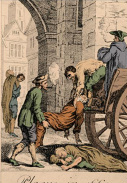 My church's annual meeting is this Sunday so I'm prepping an appropriate sermon that walks the very fine line between prophetic word and pep talk. The truth is- we are just fine, thank for asking. We are trying out new leadership models and new modes of mission and ministry. We are reviewing our shortcomings and celebrating our successful moments of following Jesus. My job is at annual Meeting is to pray and support the work of the Church Moderator and the lay leadership, who, in the church I serve, did some amazing work this year. Yes, the budget is still in a deficit- but so what? That's what the endowment is for… MINISTRY. We aren't closing the doors – not even close.

I'm so tired of people talking about how the Church is dying. First of all, that kind of talk implies that death's a bad thing. Um, hello, people of faith… remember that whole dying to eternal life thing? Death is real, inevitable and nothing to be feared. Next, I have served as the final pastor to a congregation that did in fact "DIE."

Really.

We had a final service, sold the building and closed the doors – DEAD. And you know what? Death was a beautiful thing. From that death came tendrils of resurrection that continue to bloom. Scholarships were provided from the sale of the church building, vestments and antependium were given away and communion silver gifted into the care of another community. The folks who worshiped at the church that died found new faith homes in surrounding communities where their gifts and talents continue to be used for the glory of God.

So, tell me more about how the Church is dying?

Getting smaller?

-Perhaps.

Changing dramatically?

-Yes.

Dying?

-Nope.

Why are so many people making death proclamations and wailing as if there is some gigantic medieval death cart waiting to take away the bodies of the churches fallen victim to the plague of modernity.

"Bring out your dead!"

I think they've forgotten that the church isn't the building that welcomes a mere quarter of its capacity on Sunday mornings. The church isn't the dwindling bank balance or the massive choir. The church is the living, breathing, bitching, and moaning laughing, and singing body of Christ. All of us together are Church. So, the way I see it- as long as there exists even the smallest handful of Christians trying to follow Jesus then the church isn't dying.

Will Church look like it did in the past?

No. Of course not, because WE are the church and we don't look like we did in the past. (Although I'd be happy to get my 1993 body back, please and thank you.) The Church is, in the words of the great theologians, Monty Python, "Not dead yet." So, please stop trying to convince us that we are.