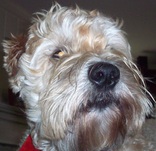 Nessie the Bad Dog
Princess Piglet of Snortington
The Eejit
YOUR dog
Wheaton Terrible
These are just a few of the many names our Soft Coated Wheaton Terrier, Nessie, is called on a daily basis. Go ahead and judge me as a horrible person who is neglectful of her animal. Fine. Whatever. You don't have to live with the beast.
Nessie trots to the beat of her own drummer. Unlike other dogs she would rather sleep alone in her crate than be with her people. Several attempts to get her to sleep on the bed with us have ended with frustrated whining in the middle of the night so she could escape the bedroom and return to her crate in an isolated corner of the kitchen.
She loves food and, despite our telling her that she has a significant wheat allergy, she continues to counter surf and apparently defy gravity when no one is watching to reach the packages of bread on the back of the counter. She has gorged on bread, muffins, cupcakes and, her favorite, hot dog rolls, eating entire packages (including a portion of the wrappers.) She has a love of baking mix and greatly enjoys making dark brown sand-art like creations on the floor when ever she can tear into a package of brownie mix.
Beyond her tenacious love of food, Nessie is a deep thinker. I know this because once she knocked over the trash filled with dinner leftovers including a chicken carcass and Nessie withdrew from the dumpster with a single burn-out lightbulb held in her teeth. It was as if she wanted us all to know that she had a grand idea.
The antics of Nessie the Bad Dog are many and I'll leave the story of her cleaning out my son's Easter basket between the sunrise service and the 10am service for another day. She peppers my days with moments of frustrated laughter and incredulous joy. I've never known a dog like her and as angry as her antics make me I'm actually kind of glad that her life is a part of my story to share.