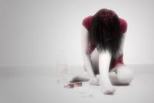 I suffered awkwardly through a Viagra commercial last night sitting next to my 14-year-old son. Let me tell ya, nothing screams mother/son moment quiet like erectile dysfunction. I'm not normally a squeamish person. I try to be open and accepting and don't make a big deal out of human sexuality but something about the Viagra commercial inspired a "I won't make eye contact if you don't" moment.

The commercial did motivate me to write this post because I figure if I can listen to someone blather on about erectile dysfunction while watching the ABC Evening News with Diane Sawyer then I figure that you, dear reader, can read about my depression. Granted, clinical depression is not nearly as sexy or titillating as erectile dysfunction (although, now that I think about it, both have the potential to keep a person in bed. -beyond that- not much in common) but it tends to be something we don't hear about except in commercials for pharmaceuticals.

My experience with depression is not dramatic enough to warrant a tv ad but it is enough to have required outside help. I work everyday to keep my mood in check and to make choices that will help, not hurt, my illness. I don't share this as a ploy for sympathy or as a blog version of an ABC Afterschool Special (God, I miss those cheesy shows!) I simply share because I can and maybe if I publicly state that I struggle with clinical depression and still maintain a mostly happy, successful, loving life then, maybe someone else will find the courage to share their story and then the stigma around mental illness will start to fall away- just a little.

I could share the entire saga with you- but frankly it is mostly boring and too darn hot right now to complete the six book set that is my story of depression. Just know that if you want detail and/or want to tell me your story- I'm here and willing to listen or talk as the case may be.

I even promise to make eye contact. – just don't mention Viagra and we are good.