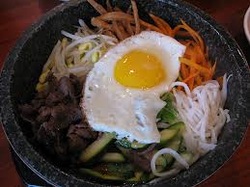 Sometimes I worry over the dumbest things. Today's anxiety is about my current drug of choice, the okdol bibimbap from a local restaurant. It arrives in a viciously hot stone bowl so when the food is places in front of you- it is still cooking. The sizzle and crack of the veggies and rice make the lunch a full sensory experience. This winter, the okdol bibimbap became my ultimate comfort food. I partook of the hot delight almost weekly. On some cold and depressing days I would consider ordering a second bowl just because the sizzling had quieted down in the first one.

Now that the weather is getting warmer I am concerned about my beloved hot stone bowl. Should I abandon it for another dish? Would it be strange to warm my hands over a steaming bowl of lunch during a heat wave?

Comfort food is a big part of my faith tradition. From the pancake and bacon supper on Shrove Tuesday to the many pot-luck suppers and even the coffee hour after worship – filled with donuts and cookies – we include food as a part of our ritual. Jesus eating fish with the disciples on the beach is one of my favorite post-resurrection stories. Gathered around the sizzling fire, Jesus enjoyed a meal. Maybe he even threw another fish on the grill once the sizzling sound stopped. Now that I think about it- I'm going to keep my comfort food tradition. Who wants to join me next week?