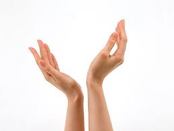 Her husband's death was unexpected. Because nobody ever expects someone to die in their 30's when they are in perfectly good health. She guessed that's why they call them accidents. And she did call it an accident – despite the well-meaning friends who mumbled something about it being God's will…. Despite the trite card she got saying something about God needing an angel…. It was an accident. Plain and simple. She held onto that notion because the very idea of it being God's will made her sick. What kind of a vicious God would take away her husband, her best friend – to make her hurt like this on purpose? No, she clung to the belief – that it was just a random, horrible accident.
The days following the crash were a painful blur to her. She wandered through the hours –supported by family, crying with friends, and making a hundred little decisions that needed to be made but had no meaning. Buried or cremated? Picking out a tie for him for the viewing. Meeting with the pastor and choosing hymns that she supposed had words of hope – but for her rang shallow. The funeral was no better. She listened to people speak words of love and hope and comfort – but they were only words and her beloved was still dead and gone. The cemetery, she recalled was colder than she expected for mid-April. And then – as suddenly as a car crash – the decisions, the planning and the services were done and she was once again home. People filled the house with conversation and food. The acidic, slightly burnt smell of coffee drifted in from the kitchen to the couch where she had been attempting to shrink into the cushions, making her empty and fragile stomach clench painfully. He always made the coffee. Not today. Not tomorrow.
People drifted in and out of her space. Some settled next to her for a while asking if she wanted anything to eat or drink. Some made painful eye contact from across the room attempting to share their sadness with a glance. She knew them all – some better than others. Her friends, His friends, her co-workers and family- his co-workers and family and a few outliers. Random people who's lives he had touched and she didn't know how… but they were here. Dinking coffee and eating sandwiches.
Her pastor had said that the grief might come in waves and true enough she was finding that in one moment she would be fine- well, almost fine – and then in the next the pain would crash down on her and steal her breath. Sometimes she even thought she could feel it building up inside her, rushing toward the shore of her soul- threatening to slam it apart with the force of the crashing tide. And in that moment- sitting on that couch – while the voices and even the muted laughter rang out from the kitchen she knew- the next wave was coming and it was going to break her.
As the sofa shifted, she looked up to see her elderly neighbor settle on the adjoining cushion. This was the neighbor her husband had adored. He was the one to shovel her drive after her own husband, ravaged by dementia for years finally passed last December. It was that thought that brought the grief crashing down – the image of him bundled up with a stupid red hat on his head and a shovel in his hand heading next door to clear a path for a neighbor. As the sob left her body she noticed dry and wrinkled hands reach out to pull her, with surprising strength, into a tight embrace. It was awkward, for sure. The way she had been sitting didn't make for a comfortable hug this way- but there was a strength, a tightness of the hold that seemed to make it better- it made it more real- more bearable.
Since the accident she had received many, many hugs but this one- this one put all the rest of them to shame – because this hug was brutal. It was a hug so strong that it held her together when anything less would have allowed her to shatter apart. It was a touch so
real
that it made the heartache – the grief – seem like an illusion. And in that moment- when death was so close – the two women held one another and rocked on that couch- as if the embrace alone was the only thing that made the sun rise and set. The cost of that hug in arthritis pain would never be mentioned. And it was a costly hug indeed-
But - years later- it might be recalled as the most painfully comforting touch ever or it might be blended in as another moment in a series of life moments – but then – right then – it mattered.
John 12: 1-Six days before the Passover Jesus came to Bethany, the home of Lazarus, whom he had raised from the dead. 2There they gave a dinner for him. Martha served, and Lazarus was one of those at the table with him. 3Mary took a pound of costly perfume made of pure nard, anointed Jesus' feet, and wiped them
*
with her hair. The house was filled with the fragrance of the perfume. 4But Judas Iscariot, one of his disciples (the one who was about to betray him), said, 5'Why was this perfume not sold for three hundred denarii
*
and the money given to the poor?' 6(He said this not because he cared about the poor, but because he was a thief; he kept the common purse and used to steal what was put into it.) 7Jesus said, 'Leave her alone. She bought it
*
so that she might keep it for the day of my burial. 8You always have the poor with you, but you do not always have me.'
There he was, the guest of honor at the "thanks for raising Lazarus from the dead" dinner party. And the sister of Lazarus takes the most precious thing she has – still readily accessible since she had just used it to anoint the body of her until recently deceased brother. She takes this ointment and touches Jesus' feet with it. A radical thing to do – to use the expensive nard- to touch the feet of a non-related man – to wipe them with her hair- which was unbound in front of men- another big no-no. And Judas gets twitchy about it-
But Jesus tells him to knock it off- to leave her alone. She is anointing him for burial.
I imagine that the touch of her hands was comforting. I imagine that story played out again and again all over the world as the hands that hold a grieving person together when they are about to shatter apart.
I imagine that, in that moment- when death for Jesus was so close – the touch of hands on his feet might have felt like the only thing that made the sunrise and set.
Days later- on the hill at Golgotha, it might be recalled as the most painfully comforting touch or it might be blended in as another moment in a series of life moments – but then – right then – it mattered.
Those two women – from different times and different stories- they could have held back- they could have saved their strength or saved their costly ointment. But they poured out what they had without thought to the cost. And their touch made a difference.
May we be so inspired that we do not hold back but rather reach out, pour out, give out our best to the world which starves for a healing touch. Because you never know what things your hands might hold that will keep the world from shattering apart.