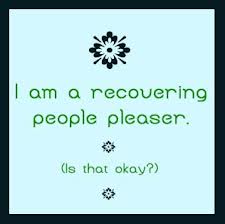 A people pleaser – that's what the self-help books called me. I'd avoid conflict by smiling and nodding. I'd agree with you even when my inner voice was telling me you were wrong. My greatest fear was that you wouldn't like me anymore. It was like living an entire life as a kid in a middle school cafeteria.

I spent almost forty years of life trying to get everyone to like me by saying the right things at the right time and failing spectacularly. This failure would leave me an emotional puddle of goo. How can people be so mean?

Now I get it. It doesn't matter why you don't like me. You just don't like me. You really, really don't like me. And look at that, I'm still alive.

This has given me the power to state my truth, make jokes about what I see as ridiculous and yes, paint myself with a target for your dislike. This isn't to say it doesn't sting because it does. What happens now is that instead of turning into an emotional puddle of goo – I shake it off.

You see, I've discovered that I'm not perfect and you aren't perfect. We will crash into each other, hurt each other, avoid each other and sometimes even love each other. The individual mess we create within this chaotic life is both isolated and intimately mixed, like a group finger-painting project. The swirls of my green and the streaks of your blue might meet in a tangle of muddy brown and come out again an altered, deeper shade to continue the picture.

I realize that not everyone is going to like me. Heck, there are times when I don't like me. But I'm not going to try to fix it anymore. I'm gonna walk up to the "cool kids" cafeteria table and grab a seat at last. And if you don't like it…what can I do to make it better?....