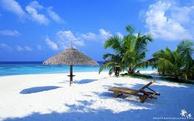 As I've mentioned before in this blog, I stink at keeping resolutions made on December 31st of any year. As in – forgotten by 12:04pm on January 1st stink. That bad. It isn't a question of intent as much as it is a question of my awesome ability to talk myself out of anything. I wish I could be that persuasive with my teenage son.

So, when it was time to change the calendar again, I had absolutely no illusion that I was going to make or keep a resolution. In the (somewhat altered) words of The Who, "Meet the new year. Same as the old year." No, I won't be fooled again into making some sort of deal with myself that THIS is the year that I …blah..blah..blah…

When it comes right down to it – I work best under pressure and I simply like myself too much to exert that sort of stress on me. Can you follow that? I'm just way too forgiving. Can't make it to the gym today? No problem. Can't seem to get the pages of the screenplay written? No problem. Can't find the extra 20 minutes to meditate because a new episode of Downton Abbey is coming on in 13 minutes. No problem. I like to imagine my forgiving inner-self as a joy-filled Jamaican woman, lounging on a beach with a Red Stripe in hand. No problem, Mon.

What I need is to exchange my laidback inner voice with an uptight, type A personality with no tolerance for excuses or procrastination. A real task-master type inner voice. Or better yet, I need to find a friend who can hold me accountable. Anyone out there want to take on the task of minding the resolutions of an 43 year-old woman with ADD? A word of warning - it will be a lot like trying to get a caffeinated squirrel to sit still and complete a Sudoku puzzle. If you are up to the challenge – let me know. I'll be on the beach.