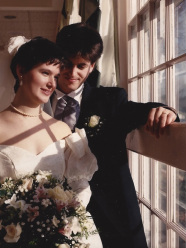 Today my husband and I celebrate our twentieth anniversary. It doesn't seem possible that we have been married that long- especially since I don't feel much older than twenty-five and he doesn't look much older than twenty-five.

I enjoy being married. It isn't always easy or fun but we seem to make it work. I think it might have something to do with the promises we made to each other twenty years ago this morning. We wrote our own vows and, sure we had the traditional stuff, comfort, sharing, respect, but beyond that, we made a vow to "play together as much as we can until, still loving each other, our lives shall end." When we wrote that part, I was convinced it was a genius move. After the ceremony, many people commented on that part of the vows. The comments were not positive. They were of the "that was interesting" variety- which sounded to me like another way of saying "That was stupid." My genius move suddenly made me feel ridiculous. Who includes a promise to play in their wedding vows?

Twenty years later, I think that vow has been a key part of our relationship through the years. Life is messy. Life is complicated. Life can be painful. Play doesn't make those things go away. Playing simply makes is all more bearable. Playing together strengthens the relationship so when the challenges come (and they WILL come) you have a little cushion of companionship on which to rely. If today I am considering throwing the tube of toothpaste at my husband because he squeezed it in the middle AGAIN, I might be more willing to give him a break because of the fun we had playing Scrabble last night. (And qua IS a word, thank you very much!) And my hope is that my husband might be more forgiving of my foibles (not that I have any, mind you…but if I did…) because we have a foundation of joy together.

Experts say that children learn best by playing together. I've never read anything from experts that tell me that at a certain age play is no longer needed. So, today's assignment is to grab your best buddy and go play. I have a date with mine tonight.