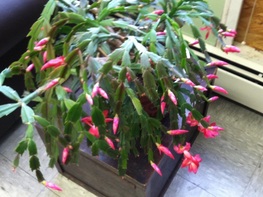 Here is a picture of my Christmas cactus. It is blooming on November 14. Clearly, I've broken it. Somehow I flipped the switch that turned it on a month early. I knew I shouldn't have watered it.

I don't know a lot about plants even though I was surrounded by them growing up. My dad had a green thumb and there were beautiful plants all over the house. They would grow and flower and make our house cheery. When he died there was a lot of anxiety about his plants. What should we do with them? Many of them made the journey with my mom when she moved into a new home. Several were given away. This plant was given into my care. Dad purchased this Christmas cactus the year before I was born. Now it was home with me to die a slow and agonizing death by drought or over-watering or sun light deficiency or too much sun or possibly locusts. I'd take nothing off the table where my history with plants is concerned.

I do not have a green thumb. I have a brown thumb. I try- but I just don't seem to be able to make plants grow. So when I was given this plant... I tried VERY HARD to give it back. The plant has meaning- beyond the beauty of it... it has a symbolic significance...some sort of connection to the past and it was, in a word, screwed.

Still, miraculously, this Christmas cactus has survived being in my care. It hasn't been easy but apparently, this Christmas cactus, like a hormonal teenager, prefers to be left alone to sulk. And like the ineffectual caretaker I am – I let it.

Now the plant is blooming on November 14th. So it isn't dead but rather confused. I know how it feels.

I've decided to celebrate the concept of blooming when ready. If it works for a cactus why won't it work for us? So let's embrace our inner cacti and not give a care about the calendar and not let anyone else have a say in when we are to burst into color. Ready? Set? Bloom!