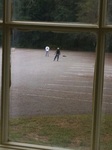 I have church ninjas. They are like church mice – only much larger and with lethal weapons. They arrive at the church when nobody is watching and do their own thing – oblivious to the tasks of a busy church taking place all around them. The big difference is that I don't like the church mice and words can't express the pleasure I get out of watching the church ninjas.

My church ninjas (and yes, I used Google to verify that the plural of ninja is ninjas) arrive every morning and slip into the back of the church parking lot seemingly undetected. I know to watch for them and, while I've yet to catch them arriving – I have once seen them place their bags on the asphalt. Then they begin their series of awesome ninja exercises – which look a LOT like Tai chi, and, considering one of the church ninja is probably well into her elder years – it probably IS Tai chi. But- this is an election year and I won't be influenced by facts. They are ninjas. And they practice outside my office window every morning.

They are my excuse to daydream. I watch them stretching and moving and bending. I watch them reach and dip. I sip my coffee as they stand still in the early morning mist. I wish I knew them but I don't. They showed up silently and just began this discipline over the summer. Perhaps they were drawn to the park-like setting of the churchyard. Perhaps it is a convenient Ninja meeting place. Whatever the reason, they are welcome here. I enjoy watching them. Someday I might be inspired to move from my desk chair and join them. Ninja Pastor does have a nice ring to it.